Friday Feature Plant: Tiny Gold Barberry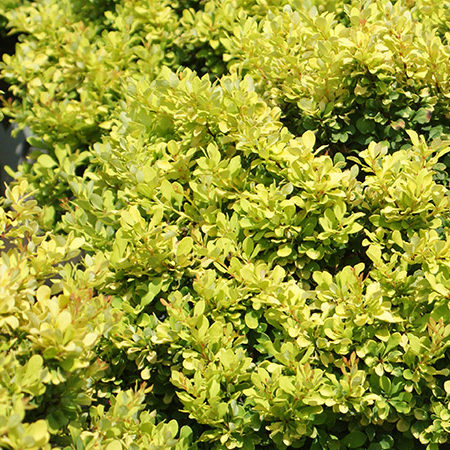 Tiny Gold Barberry is a powerhouse of color in a tiny package. Little gold leaves cover the rounded habit plant for 10 months of the year!  Leaves gain best color in full sun, though this dwarf shrub also will tolerate partial sun with yellow green leaf color. Thorny branches have deep texture and a zig-zag appearance. Tiny Gold Barberry grows slowly to a mature width of 12 to 15 inches and 15 to 18 inches high.
Northern gardeners will be happy to learn that Tiny Gold Barberry has small flowers in the late spring that do not set viable seed and therefore keep this plant from being invasive.
Extremely adaptable, Tiny Gold Barberry grows in USDA Zones 5 to 9 in a wide range of soil types, average water needs, preferring well-drained soils. Tiny Gold is grown for its foliage color and dwarf size.
Some landscape uses for Tiny Gold Barberry include mixed perennial borders, smaller more detailed gardens, miniature landscapes, and inclusion in containers for color.
For more photos of this plant in use within gardens and landscapes, follow our Friday Feature Plant board on Pinterest!
Back