A bit about trimming your shrubs and trees...
Published:

Sep 26, 2023

Written by

JOSEPH PLITT

Topics: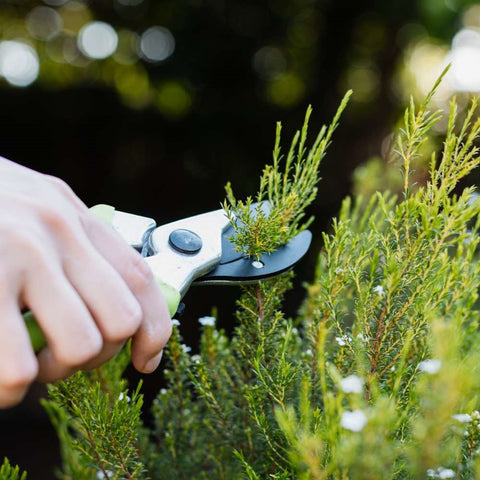 When should I trim my plants? How often should I trim my plants? Should I use clippers or a hedge trimmer? Will my plants bloom next year if I trim in fall? These are all common questions for most gardeners, even experienced ones. The good news is that most of the time the answer is subjective and depends on your goals and preferences for your garden. It's also a lot of fun to spend the day with your plants, it can be very relaxing.
When should I trim my plants?
For flowering evergreen plants like Camellia, its best to trim these after the bloom cycle has finished. Next years flower buds will be produced later in the year on the remaining growth. A spring blooming Camellia that is trimmed in fall may not bloom as much or at all if too many of the flower buds have been cut off.
For many flowering deciduous plants, I prefer to trim these in fall or even winter after a few frosts. Roses, most Hydrangeas these days, Spirea, Quince, and many other deciduous flowering plants actually prefer a hard cutback in winter. Decreasing their size helps them grow faster and more full the following year. Don't worry, they will grow fast and surprise you will lots of new flowers.
How often should I trim my plants?
When answering this question I must think about a new garden vs a garden that is mature, 5 years or longer. A newly planted garden will need very little trimming, just a little light shaping to encourage new growth. Each time a plant is cut, the plant will direct energy into re-growing from the spot of the cut. For most plants more than one new branch will sprout from the spot of the cut. Hedges can be created with boxwoods and hollies if they are trimmed with a mechanical hedge trimmer at least twice a year. Over time the plants branches will thicken and increase in numbers eventually creating that dense look of most known hedges. Of course you may choose to not trim your some or all of your plants, with this your plants will grow into their natural form. Many gardeners prefer to have a mix of heavily trimmed plants mixed with plants that are never trimmed. Over time this creates texture and visual interest in any garden.
Should I use clippers or a hedge trimmer?
This question is partially answered in the previous question. if you want a plant to grow naturally, you may need to use clippers on occasion to trim off selective rouge branches or spent flower heads. If you are after a boxwood or holly hedge, you will want to invest in a gas or battery powered hedge trimmer once the plants are full grown. Mechanical trimming is the best way to accomplish a thick and controlled look.
For experienced gardeners, working in the garden is the reason they actually have a garden. It is very relaxing and can bring long term pleasure viewing what is created through time and effort. It is also good exercise which benefits the body and the mind. There are some basic things to know before trimming any plant but especially when the garden matures, it's really up to the gardener as to how and which part of the plant should be trimmed. If you have specific questions about any aspect of maintaining plants in your garden, please call us or reach out to sales@lotsofplants.com, we love photos of your plants and love to help.
Below is a link to our fall cleanup blog and what to do before winter sets in:
https://lotsofplants.com/blogs/blog/getting-your-plants-ready-for-winter
Back